Arau Baby + Moisturizing Lotion
120mL
Free of additives such as synthetic surfactants, preservatives, antiseptics, alcohol, synthetic fragrances and colors. pH adjusted to your baby's delicate skin, Arau Baby will take care of your baby's full body since the day they are born. Natural botanical ingredients gently take care of the skin, leaving a comfortable feel and smooth touch after its use.
| | |
| --- | --- |
| Ingredients | Water, glycerin, BG, pentylene glycol, jojoba seed oil, squalane, macadamia nut oil, 1,2-hexanediol, hydrogenated lecithin, acidic sophorolipid, xanthan gum, carbomer, acrylate/alkyl acrylate (C10-C30) crosspolymer, potassium hydroxide, lavender oil |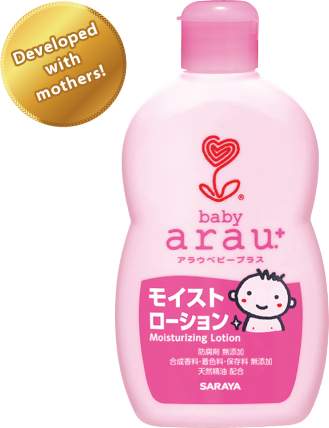 ※Skin sensitivity tested.
(It does not eliminate the possibility of skin irritation for all users.)
Designed around safety and gentleness
Safety of natural ingredients
We focused our efforts on creating the safest, gentlest lotion to protect the skin of your baby. Arau Baby + Moisturizing Lotion does not contain any synthetic ingredients. The biofermented soforolipid is a natural emulsion agent for extra care. No antiseptics, preservatives, alcohols, synthetic fragrances or colors.

Fresh to the touch.
The gentleness of plant extracts
Gentle scent of 100% organic lavender essence.
Olive-derived squalane, jojoba seed oil, and macadamia nut oil are formulated for skin moisturizing.

Chose base on your child's skin type
We recommend basic skin care, using lotion. It moisturizes without leaving a sticky touch. You can even use it in the sweaty summer months.

Use cream over lotion on the cheeks and around the mouth for double moisturizing on these typically dry areas.

When experiencing dry skin all over the body or in fall or winter, apply cream to the whole body for extra moisturizing.
Arau Baby 3 step skin care
Wash with Arau Baby Foam Body Soap to remove dirt and sweat, which can cause skin trouble.
Moisturize with additive free Arau Baby + Cream and Lotion
Swaddle with towels or clothes washed in natural Arau Baby Laundry Soap.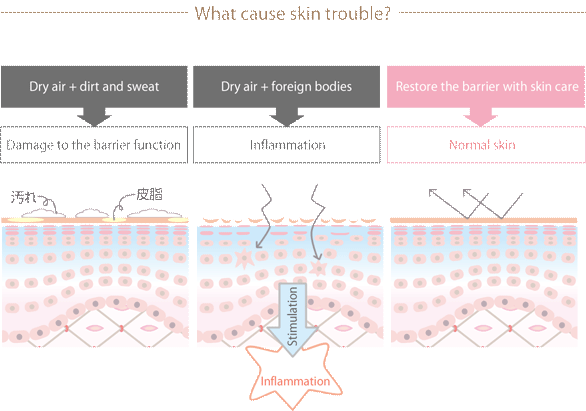 Baby skin care
Babies look like the have a healthy skin because of their pudgy looks, but actually their skin is thinner than adults (around 1mm). Also, they have much less natural oil on the skin, causing the skin to dry out much easier, becoming easier for allergens and irritants to get through the skin.
It is very important to use baby lotion and cream every day to reduce irritation and increase the barrier function of the skin. Arau Baby + skin care products are made with ingredients that cause no irritation.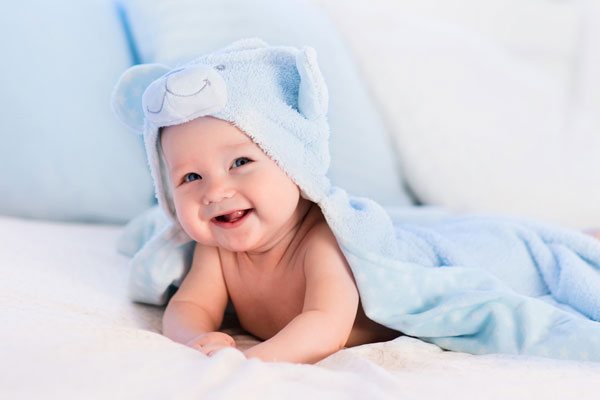 When should we start skin care on our babies?
Generally speaking, it is better to start applying lotion to babies at around 3 months. Newborns have fairly oily skin, but at 3 months it begins to produce less oil. When the air gets dry in the winter, it is a good idea to apply lotion for babies 2 to 4 months old. Areas that often dry out are around the mouth, face and stomach. Always be observant about what areas tend to become dry.