Arau Baby Foam Bottle Wash
Bottle 500mL
Wash baby bottles, dishes, pacifiers and toys with peace of mind. Use Arau Baby Bottle Wash on all of baby's washable items. Smooth bubbles clean and lift away dirt, food and bacteria before rinsing away in seconds.
| | |
| --- | --- |
| Product | Kitchen Soap |
| Application | Plastic, ceramics, glass, metal goods |
| pH | Mildly alkaline |
| Ingredients | Pure soap (10% potassium salts of fatty acid), stabilizer |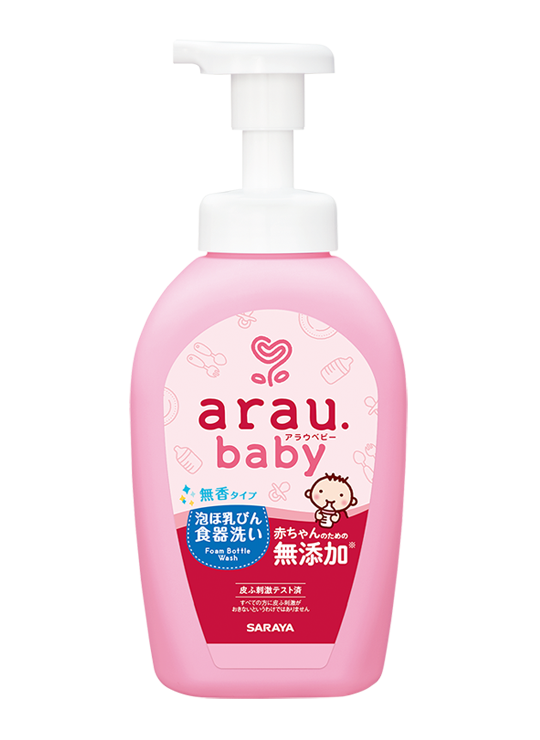 ※Contains moisturizing shiso leaf and aloe natural plant extracts for hand care.
※Free of synthetic surfactants, fragrances, colors, and preservatives.
※Tested for skin irritation
(Does not eliminate the possibility of irritation in all users.)
Soft foam cleans dishes completely.
Arau Baby Bottle Wash comes straight out as thick foam.
Smooth foam, made from natural soap, lifts away food and oil easily and completely.
100% natural, plant originated ingredients.
Arau Baby Bottle Wash contains no animal or synthetic oils in its soap. Born from 100% coconut and palm oils, you can safely wash all your baby's dishes and toys since it is free from synthetic surfactants, unnatural fragrances, colors and preservatives. Natural soap cleans deeply and rinses away dirt better than any detergent, meaning nothing remains. You can even use it to clean baby bottles, bottle nipples, bottle liners and pacifiers, which babies directly use with their mouths.
Great oil removing power
Arau Baby Bottle Wash is entirely additive free and cleans better than regular dish detergent.
Rich foam removes grease from plastic easily and quickly, without leaving any residue. It is great for busy moms and dads who don't have a lot of time for washing dishes.
No remaining smells
Soap and synthetic detergents, made from fats or lipids, have a smell. Most detergents will adopt synthetic fragrances to hide this, but in Arau Baby, instead of adding additives we use natural herbal extracts and essential oils that naturally deodorize while masking the smell of soap. You'll love the delicate smell of Arau natural soaps.
Doesn't soap leave things slippery?
Not only soaps, but detergents also attach to surfaces when mixed with water, making the object feel slippery when cleaning them. However, Arau Baby Bottle Wash is made from natural soap, which rinses much better than a dish detergent, which can remain on dishes and containers unless you thoroughly rinse, especially in hard water areas.
Moisturizing plant extracts to protect your hands
Daily hand washing of dishes can cause the skin to dry out. Arau Baby Bottle Wash is a mild soap made from natural plant ingredients such as shiso leaf extract and aloe extract to protect your skin.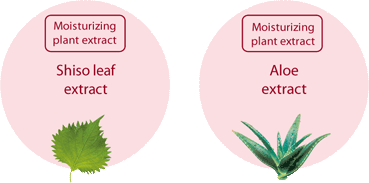 Tested for skin irritation
Synthetic additives found in face washes, body soaps and other cosmetics are formulated under the strict safety standards. However, the causes of allergies and skin irritation are different in every person. Arau contains no LAS, alcohol derived synthetic detergent, synthetic fragrances, artificial colors or preservatives. Of course, Arau is tested for skin irritation, designed to be a truly gentle soap.