arau.baby Foam Bottle Wash
Bottle 500mL
Wash baby bottles, dishes, pacifiers and toys with peace of mind.
Use arau.baby Foam Bottle Wash on all the baby's washable items, rinsing away in seconds any dirt, food and bacteria with its smooth bubbles for a clean finish.
Free from

Petroleum based synthetic surfactant

Preservative

Synthetic fragrances

Coloring

Silicon
| | |
| --- | --- |
| Product | Kitchen Soap |
| Application | Plastic, ceramics, glass, metal goods |
| pH | Mildly alkaline |
| Ingredients | Pure soap (10% potassium salts of fatty acid), stabilizer |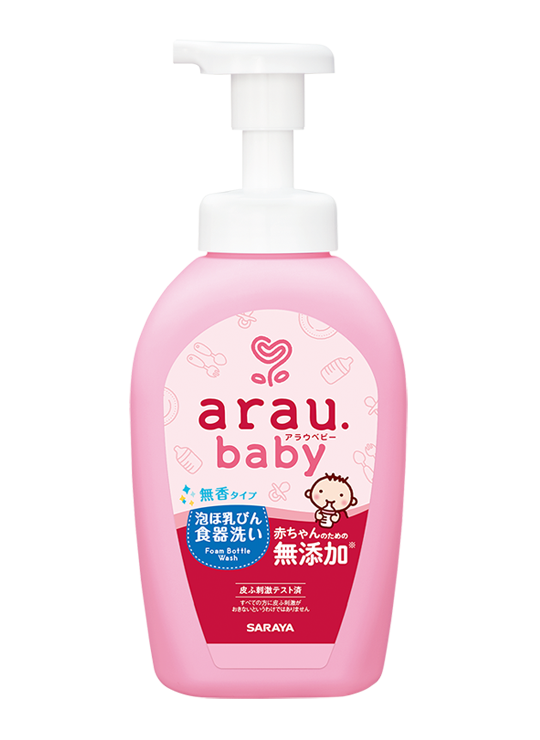 ※Contains natural extracts of shiso and aloe for moisturizing skin.
※Skin irritation, allegy tested.
(Does not eliminate the possibility of skin irritation for all users)
Quick rinse
arau.baby Foam Bottle Wash comes straight out as a thick foam that quickly rinses away thanks to the use of Sophololipids.
Smooth foam, made from natural soap, lifts away food and oil, easily and completely.
100% plant origin ingredients
arau.baby Foam Bottle Wash contains no animal or synthetic oils in its soap. It is born from 100% plant origin palm oils, with no synthetic surfactants, unnatural fragrances, colors and preservatives.
arau.baby Foam Bottle Wash natural soap deeply cleans and rinses away better than any detergent, meaning nothing remains behind. You can even use it to clean baby bottles, nipples, bottle liners and pacifiers, which babies use directly with their mouths.
Moisturizing plant extracts to protect your hands
Daily hand washing of dishes can cause the skin to dry out.
arau.baby Foam Bottle Wash is a mild soap made from natural plant ingredients, containing shiso leaf and aloe extracts to protect the skin.
Doesn't soap leave things slippery?
Not only soaps, but also detergents attach to surfaces when mixed with water, making objects feel slippery when cleaned. However, arau.baby Foam Bottle Wash is made from natural soap, which rinses away much better than dish detergents.
You'll notice that dish detergents can still remain on your plastic dishes and containers unless you thoroughly rinse.