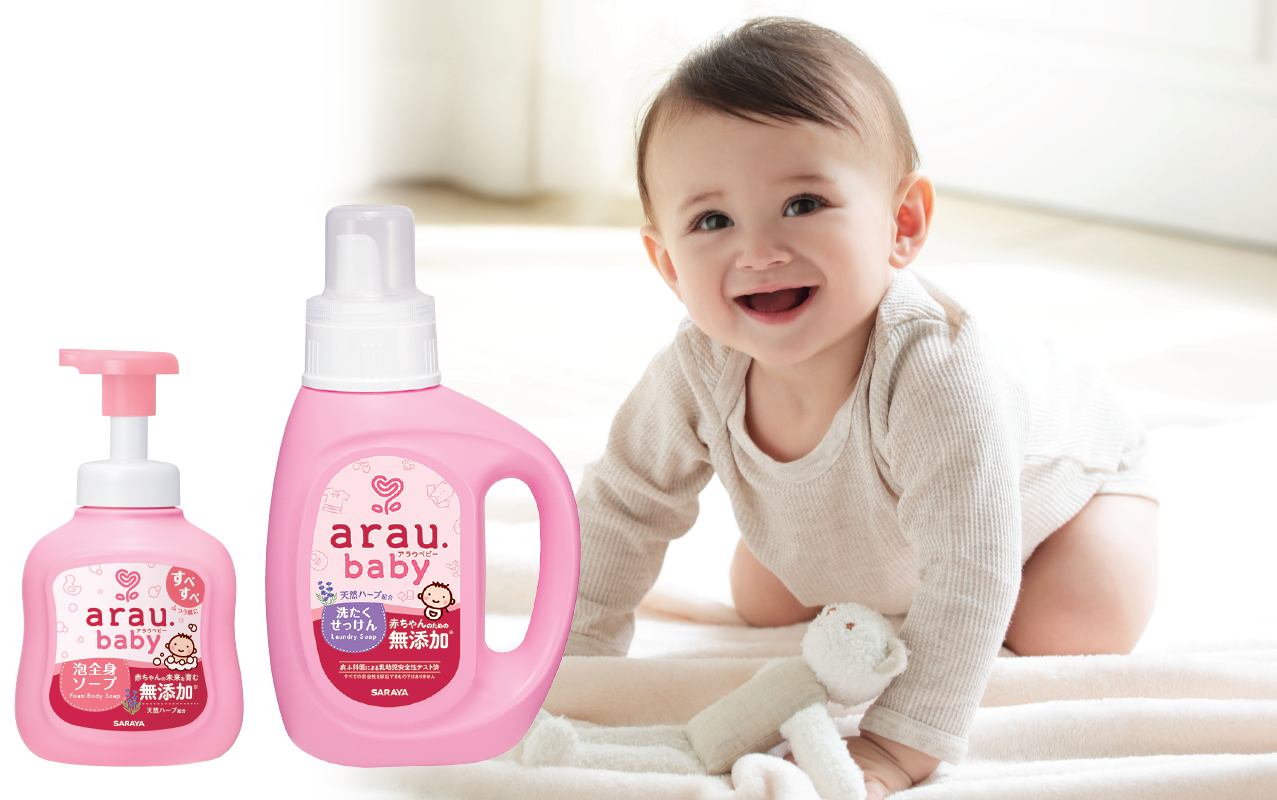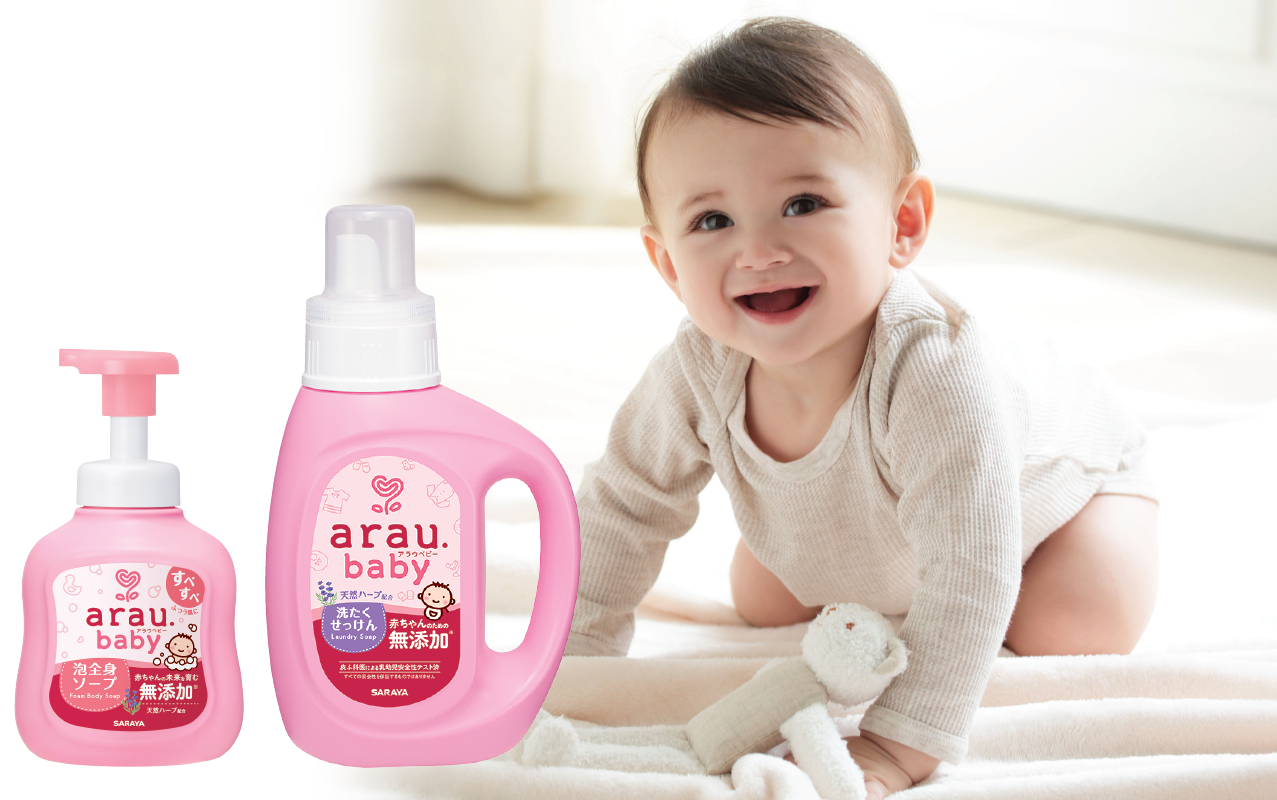 arau.baby Concept
We believe we make the best products for mothers and fathers who care about the safety of their baby's delicate skin.
arau., derived entirely from botanical ingredients and free from allergens, combines natural herb essential oils and extracts for the best function and fragrance that is available for a delicate skin.
Truly Additive Free
Most detergents and soaps include various synthetic additives even if their bottles say they are "safe" because there is no regulation on the labeling of such additives. Because the safety and comfort of your family is so important, we designed arau. to be totally free from petroleum synthetic surfactants, phosphates, edetic hydrochloric acid, synthetic fragrances, artificial colors and preservatives which can cause irritation. In addition, arau.baby is 100% derived from botanical ingredients, so you can use it with peace of mind on your baby's delicate skin.
※arau.baby products are tested for skin irritation and allergies.
(arau.baby Laundry Soap, Tooth Gel, Spot Wash Laundry Bar are pending results.)
(Special cases may happen and this does not guarantee that arau.baby will not cause irritation in all users.)
Handy Design
We paid particular attention to the bottles and how our customers use them. Considering the parents, we made sure arau.baby Full Body Soap is easy to use with one hand, allowing parents to hold their baby while washing. The one-touch-cap of arau.baby Moisturizing Lotion and Moisturizing Cream easily flips open with one hand.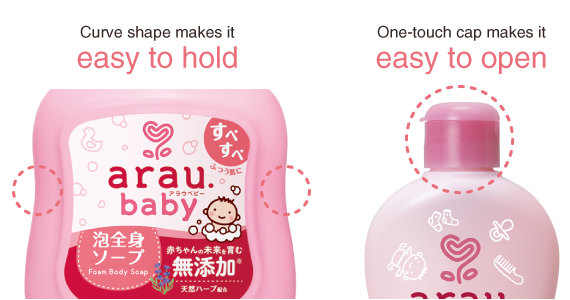 Eco-friendly
All arau.baby products biodegrade quickly in the drain water to return to the earth without polluting. We use certified sustainable palm oil to ensure our products are as gentle on the environment as they are on your baby's skin.
The 3 steps of arau.baby skincare
1. Gently wash away dirt and oil from the skin which can lead to irritation over time.
2. Moisturize the skin with additive-free lotion.
3. Swaddle the baby with soft towel or clothes washed with additive-free laundry soap.
We suggest this 3 step method for the most gentle skin care for your baby.

About Our Natural Ingredients
arau.baby's many varieties contain different herbal extracts and essential oil combinations to match each cleaning job. Not only do they smell fantastic, but they also help clean and deodorize. Enjoy the fresh botanical scent that is distinctly different from synthetic fragrances.
Lavender Oil

Origin: France

The English word lavender is derived from the Latin lavare, meaning to wash. It was used by the ancient Romans for bathing and first aid. Lavender is a well known herb, widely used as an aromatic.

Spearmint Oil

Origin: United States

Spearmint is derived from the word spear due to its pointed leaves. It has been used as an aromatic since the time of ancient Greece in baths. Now spearmint is a common ingredient in oral care products and foods. arau. and arau.baby contains natural spearmint grown in the United States.

Lime Extract

Origin: Caribbean Islands

Lime is a citrus with a bright flavor and aroma, which is often used in subtropical and tropical cuisine. The fragrance is both invigorating and unique, and it is thought to be beneficial to the skin. arau. and arau.baby uses native Caribbean lime oil.

Japanese Shiso Extract

Origin: China

Shiso has been an important herb in Japan since long ago. With its detoxifying effect on seafood, shiso is often found in sushi and sashimi dishes. Current research has shown shiso to have anti-allergy and anti-inflammatory properties. While unknown outside of Japan until recent years, shiso is spreading worldwide in cooking and cosmetics.

Rosemary Extract

Origin: Morocco, Albania, Egypt

Rosemary is widely used in cooking to flavor dishes and calm the taste of fish and meat. One legend says the Queen Isabella of Hungary regained her youth after using rosemary cosmetics. Rosemary is often found in cosmetics for its skin firming effect.
※Country of origin may vary on the season. All countries are listed.